Monster Hunter 4 Ultimate: Choose Your Weapon [Guide]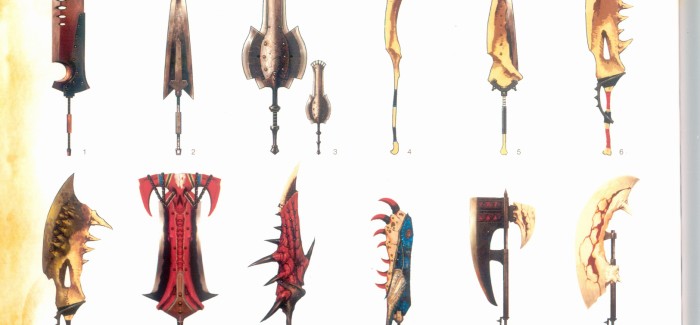 Mastering the Hunt
Monster Hunter 4 Ultimate is, without a doubt, one of the most sizeable games released on the 3DS, content-wise. It's probably also safe to assume that it easily ranks with the best of the monster hunter games. To a new player, however, Monster Hunter is its own genre, and it can be absolutely overwhelming when it comes to discovering how to find the weapon that best suits you for monster-slaying. Use this guide to learn a bit more about the many weapons of MH4, and maybe settle on the style that suits you best. Weapons are rated from 1 to 10 by a 'difficulty' system in this guide. The greater the number, the tougher it is to master the weapon.
The Hunter's Arsenal
Dual Blades

Difficulty: 10
Advantages: Extremely high attack rate, high max sharpness, demon mode, demon dodge
Disadvantages: Low attack power, fast stamina drain, fast sharpness drain, no blocking, gauge dependency
Dual blades are a very (forgive me for this) double-edged sword of a weapon. When the blades are drawn, you maintain full mobility, and can really dish out some crazy combos, but your character is left open to counterattacks because there is no blocking ability whatsoever. As you dance around your enemies with speed and grace, you will fill a gauge that is exclusive to dual blades users, the demon gauge. When you press R, your character will enter demon mode, and start burning through whatever amount of the gauge that you have built up to greatly increase attack frequency and power and allow you to perform the uber-powerful demon's dance and demon dodge abilities. If you wait until the gauge is completely filled, you will enter an enhanced version of demon mode, archdemon mode, which even further enhances your attack power and speed. Dual blades can be absolute powerhouses against any target, but are very difficult to effectively use against more armored targets, which encompasses many enemies in the game.
Lances

Difficulty: 2
Advantages: very effective blocking, long attack reach, lance dash
Disadvantages: low attack power, low attack rate, unvaried attacks
Lances are wonderful weapons to assure victory. Along with gunlances, which possess very similar traits, they make it easy to really get in close on a monster without fearing death. Lances are best used when tanking, allowing you to pretty much stand behind your shield and stab at your opponents and absorb all the blows. This drains your stamina quickly, but being well-prepared for such a situation is just part of being a tank, so bring plenty of well-done steaks and mega dash juice! Lances are highly effective against almost any monster, if you watch your stamina. It also has an ability that allows you to dash at the monster joust-style, making it possible to quickly get across the map while stabbing to death anything that stands in your way. A surefire way to handle tougher monsters, in most cases.
Gunlances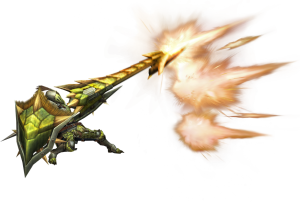 Difficulty: 1
Advantages: high damage, long range, shelling, very effective blocking, Wyvern's Fire
Disadvantages: Slow movement speed, slow attack speed
Here's your other tanking option. Gunlances work in an extremely similar way, with most of the same moves, except they introduce a new concept into the fray: shelling. Shelling is the lifeblood of gunlances, giving you the ability to trigger a small explosion at the end of the lance that inflicts a large amount of damage, often enough to send your target reeling. Each weapon possess 1 of 3 shell types: long-range, wide-range, and standard. With a short cooldown, the Wyvern's Fire ability is a buffer to this, unleashing a massively powerful blast directly in front of you that takes only a couple seconds to charge up. Gunlances have 2 to 4 shell capacity, and need to be reloaded when they run out. The reloading action is quick, however, and the damage the shells inflict is well worth the slight inconvenience of occasionally reloading. Gunlances are wonderful for any hunter, inflicting massive damage while allowing for a full-on defensive approach.
Switch Axe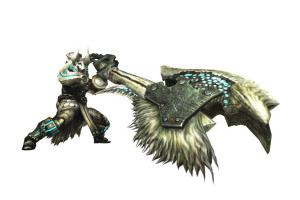 Difficulty: 6
Advantages: Multiple weapon forms, potent status effects, high damage
Disadvantages: Slow movement speed, gauge dependency, no blocking
Switch axes are interesting weapons. They can be morphed between a huge greatsword and a heavy, powerful axe. Axe mode is your starting point. Attacking in axe mode builds your switch gauge, and when your gauge reaches at least 50%, you can switch over to sword mode. Sword mode is fueled by the phial that your chosen switch axe possesses. When you attack in sword mode, your strikes are laced with this phial's power, which can be an element, status effect, or a pure power booster. Attacking in sword mode drains your switch gauge, but you can also discharge your phial in one powerful attack called an Elemental Discharge, which can be powered even further with a few quick presses of the attack button while the strike is being reared back. Switch axes are massively powerful tools, and can quickly destroy or sever monster's body parts. A little bit overpowered, but who can complain about an advantage?
Greatsword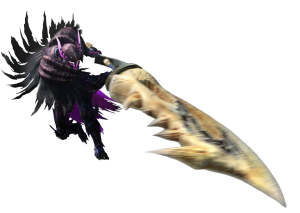 Difficulty: 8
Advantages: Blocking, Charge Slash, high attack power, decent sharpness
Disadvantages: Slow movement speed, slow attack speed
Greatswords are a monster hunting classic. They possess power and defense in tandem, and though they are difficult to use, some of the most skilled hunters I know of choose this as their weapon. Greatswords are all about the timing. Your blocks, your charges, your strikes, and even drawing and sheathing the weapon all have to be perfectly timed in the heat of battle. The greatsword has a few different strikes that can be charged to 3 levels. When the greatsword reaches a new charge level, it flashes and makes a metallic sound. The power of a perfectly timed level 3 charge is massive, and will throw most monsters right off their axis. The greatsword can also block attacks, though this quickly diminishes sharpness and takes a bite out of your stamina. It will take a while to get used to the rigid heavy physics of the greatsword, but given the effort, they can prove to be staggeringly effective. Also, it feels damn good to let loose a level 3 charge attack in a rampaging Tigrex's face.
Longsword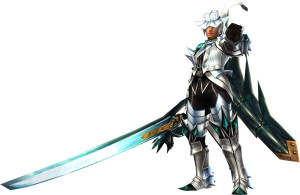 Difficulty: 6
Advantages: High attack power, high movement speed, Spirit Blade, high attack range, high attack speed
Disadvantages: No blocking, high attack vulnerability
Long swords have huge reach, and high damage output. They're very effective at dismantling monsters' body parts, and undoubtedly the best weapon for cutting off tails. They're very speedy weapons, with quick, unrelenting combo attacks that slice and dice in various directions. But…. Get used to keeping your distance. The longsword has no blocking abilities and no extra evasive maneuvers, leaving you with just your dodge roll. This can be quite frustrating at times, making it very difficult to get in on some monsters with unpredictable attacks. If you can master getting close to your enemy, however, you can unleash the all-powerful Spirit Blade Combo and really crank out the damage. The spirit gauge rises with every strike landed, and can be burned to unleash a furious string of attacks, ending in a really awesome flourishing slash that gets you out of range quite quickly. It's a dangerous game to choose strictly offense, but it can pay off if you know when to pull punches and when to let loose.
Charge Blade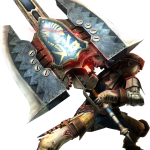 Difficulty: 5
Advantages: Blocking, multiple forms, phial effects, decent attack power
Disadvantages: Low mobility, gauge dependency
A new weapon to the Monster Hunter series, Charge Blades are extremely versatile, allowing a switch between sword & shield and axe modes. You'll find yourself repeating a pattern with the charge blade: attack with S&S mode, diffuse charged power into blade, and then unleash hell in axe mode. Keep things defensive when using the sword and shield, charging your blade while attacking the enemy, and when you see the jewel on the sword's hilt start to glow with power, diffuse it into the blade. When the row of phials underneath your health gauge are all filled, switch to axe mode. Every attack in this mode is laced with the specific charge blade's elemental power, and you can discharge all of these phials at once with a powerful Amped Elemental Discharge attack. When the gauge runs out, switch back to the sword and shield. Rinse and repeat. Versatility is the name of the game with charge blades, allowing a character to tank quite effectively, and then crank out the damage when the opportunity arises. Easy to use, difficult to master, for sure.
Sword and Shield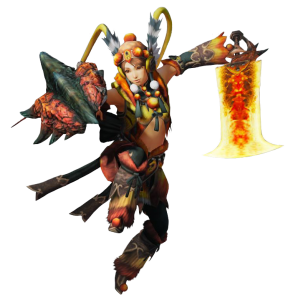 Difficulty: 4
Advantages: Blocking, high mobility, item use enabled while unsheathed, high attack speed, strong elemental effects
Disadvantages: Very low attack power, low sharpness
The good ol' sword and shield is the flagship beginner's weapon. They offer powerful elemental effects that help to make up for their typical lack of raw attack power. The Sword & Shield allows the player to be fully mobile other than sprinting, meaning you can even use items while the weapon is drawn effectively making it into somewhat of a utility weapon. The shield offers fairly decent protection, though not as potent as the lances, and the sword strikes quickly and relentlessly. The combos you can pull can be quite lengthy, allowing for the frequency of strikes to outweigh the raw damage of each. The Sword & Shield is a well-rounded weapon that can be pretty effective against any monster, though the battles can be gruesomely long sometimes if you're fighting in the higher ranks.
Hunting Horn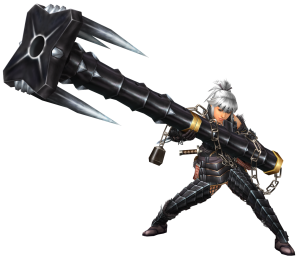 Difficulty: 7
Advantages: Various buff melodies, healing, high power, stunning blows, drains monster's stamina
Disadvantages: no blocking, melodies attract aggression, low attack speed, low sharpness
Both a weapon and a musical instrument, the Hunting Horn is capable of forming small melodies to play that boost both your and your ally's stats. Raise attack or defense, heal, temporarily eliminate wind physics or stamina depletion, grant hearing protection against roars, and many, many more temporary buffs are available amongst all of the hunting horns you can forge. Each horn has 3 possible notes it can play of various colors, and the notes that the horn can perform decide which buffs it is capable of bestowing by chaining 2, 3, or 4 notes together. X, A, and X+A perform note 1, 2, and 3, respectively. Each attack adds the corresponding note to the note chart at the top of the screen, with a maximum of 4 notes at a time. All you have to do is press R to perform, and the buff will be applied to yourself and all of your teammates in the area. Keep in mind that this leaves you wide open to monsters. Apparently, they quite despise music. After performing, you can also combo into an encore, which throws out a quick 3-hit combo and then plays an even more powerful version of the melody. Hunting horns are excellent for multiplayer, and good for solo as well, although fighting alone with a horn takes a good bit of getting used to due to the time needed to perform melodies. Try them out sometime, and be sure to keep up with those melodies.
Hammer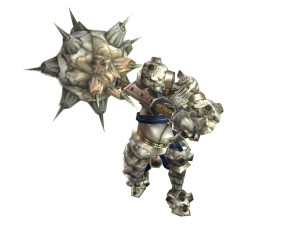 Difficulty: 5
Advantages: Very high attack power, stunning blows, drains monster stamina
Disadvantages: Low attack speed, low sharpness, no blocking
Hammers are your go-to option for raw damage output. They're typically top-tier as far as damage output, and can stagger any size of opponent with ease. There offer no defensive maneuvers whatsoever, but man, do they hit hard, and they offer full movement speed while they are drawn. The combos are relatively simplistic, yet quick, and the hammer's special move is a charge attack that can be held as long as your stamina can hold out, and can be released in several different fashions to release an array of powerful charge attacks. This even includes a Legend of Zelda-esque spinning bash attack. Knock it out, then go Hulk and get to smashin'. I've finished quite a few fights in an alarmingly quick manner, though keep in mind that practice makes perfect with an aggressive weapon.
Insect Glaive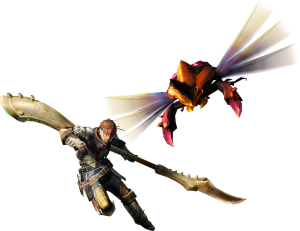 Difficulty: 9
Advantages: Kinsect, solo buffs, high mobility, decent attack power, high attack speed, vaulting
Disadvantages: Buffs expire quickly
The Insect Glaive is the other new contender to the series. It adds the entirely new idea of having a living weapon: the Kinsect. You can drain 'essence' from your enemy by marking them with a homing bullet and sending your little buddy to strike. When they hit the enemy, the insect-shaped section of the meter under your health gauge will change to either red, white, orange, or green. Red increases offense, white improves mobility, orange increases defense, and green restores health. Call your Kinsect back to you, and he will hand the essence over to fill one of your three essence slots. Having multiple slots filled will cause augmented effects. The attacks from the staff are quick and pack a decent enough punch for their speed. Vaulting provides the ability to sling yourself up in the air whenever you wish, even mid-combo, allowing for some clever dodging tactics that help to make up for the complete lack of blocking. They're really unique, with a lot of potential, and are especially awesome if, like myself, you were hoping for a more exotic weapon than what has been previously available in the series.
Light/Heavy Bowguns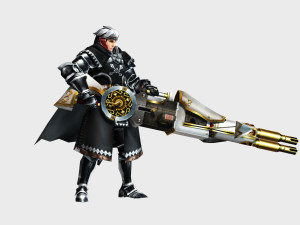 Heavy Bowgun Difficulty: 7
Heavy Bowgun Advantages: Massive range, huge bullet diversity, high attack power, various attachments
Heavy Bowgun Disadvantages: Low attack speed, low mobility, slow reload, no block, utility dependent
——————————————————–
Light Bowgun Difficulty: 3
Light Bowgun Advantages: Long range, high mobility, high attack speed, various attachments
Light Bowgun Disadvantages: Low attack power, no block, less bullet diversity, utility dependent
I'll be detailing both bowgun types, as the two are quite similar weapons. Bowguns are simple enough: keep your distance and fire away. There are tons of different status effects, elemental effects, and other effects attached to the various bullets you can use. Though heavy bowguns are more of a burden, they trade speed for power. It's the opposite case for light bowguns. They're quick, but with less power. There aren't many monsters who will pose much of a threat when you keep a distance, as long as you watch out for projectiles and time your shots and reloads. Heavy bowguns are a little tougher to master, because there is a fairly lengthy attack animation, as well as a slow reload time and low mobility. Light bowguns can crank out the bullets, while still allowing you to be fairly mobile. Staying dodgy is easier than trying to get in a series of well-timed heavy shots, but if you master the difficult timing, you can get an enemy down quicker than with a light bowgun. Remember, you have limited ammo, but you can bring along materials to craft more ammo when you exhaust your supply. The gunner pouch is utilized with bowguns, which is exclusive to characters using ranged attacks. It provides you with a full inventory page specifically for holding ammunition. Fighting as a gunner takes some mastery, but it is great for multiplayer matches. Master gunners rule the flow of battle, using their scopes or quickfiring to cause elemental and status effects, break parts, and stagger enemies. They are a valuable asset to any hunting party, and can even heal other players and palicoes with recover shots!
Bows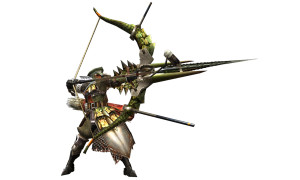 Difficulty: 6
Advantages: No reload required, varied charge shots, various coatings
Disadvantages: Low attack power, low coating carry capacities, lengthy battles at times
Every bow is very unique, each one offering a set of highly varied special shots, and most bows are equipped with some type of potent elemental effect. Coatings aren't required to fire arrows, but they are quite useful in battle. There's many options, including coatings for wearing down your target, inflicting poison or paralyzation, or you can just add some extra raw damage behind your volleys with power coating. Bows are excellent for staying mobile while sending a rain of steel on your opponent, and are very useful for disabling your target to allow for easier captures. They also have a powerful charge attack which rains tons of arrows down from the sky onto your target. Memorizing what attacks correspond to which charge levels is key so that you can release the appropriate attack at the right time. There are many different types of shots to charge up to, including cluster shots, scatter shots, volley shots, and quite a few others. Preparation is key, and keeping a good mid-range distance is a good constant to stick with. Bow users are best in a party, but can also solo pretty well. A great choice for a greenhorn gunner.
In Conclusion…
Monster Hunter's weapon types are hugely varied, and it's easy to lose yourself in the fun of trying out new weapons. You never know when your preferred weapon will suddenly change, and you'll have to get a new suit of armor to provide skills that pertain to that weapon type. However, it's part of the fun of Monster Hunter to experiment and create… and, of course, destroy. Monster Hunter lives on strong, and the true fanatics will love the two new weapons to play around with. Hopefully this guide made it easier for you to settle on the weapon you really want to master, and will help you build your own hunting style. Keep at it, hunters, there's new content being released every month on top of the huge amount of default content already available. After all, practice makes perfect, and there's plenty of practicing to do.
19573 Views // March 19, 2015