Super Smash Brothers 3DS [Upcoming]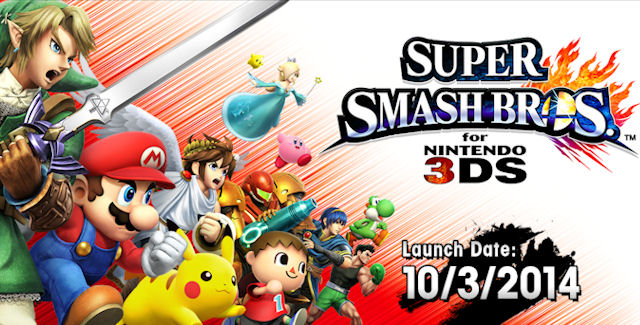 Warning! A challenger approaches!
That's right, all you nostalgia junkies and faithful Nintendo followers. It's time for the next Super Smash Brothers game to invade our busy lives and crumble our priorities to dust. And, oh, man, does it look like everything we've been waiting for since Super Smash Bros. Brawl for the Wii.
Super Smash Bros. 3DS and Super Smash Bros Wii U are the two games in the fourth installment in the series. So far, the only differences between the two versions of the game seem to be the slightly lower graphical quality in the 3DS version, and the release date. The 3DS version will be hitting the shelves on October 3rd, while the Wii U version is announced to hit the USA sometime this holiday.
Some surprising new characters are joining the all-too-familiar clash of titans, including Mega-Man, Animal Crossing's Villager, and Super Mario Galaxy's Rosalina accompanied by her Luma. And don't worry, pretty much all of the characters we are accustomed to receiving our button-smashing commands are coming back to show the new guys how it's done.
If you've ever played Super Smash Brothers, You should have a pretty good idea of what to expect here. Chaotic battles with all the characters doing everything they can to send each other flying full-velocity towards the sides, top, or bottom of the screen. Smash attacks, signature specialty moves, and ultimate signature attacks come from all sides as you try to avoid your opponent's ferocious blows while working in your own. The standard smash experience we all know and love.
With October 3rd less than a month away, it's time to charge up the 3DS and get excited for more Nintendo glory. And, considering the multiplayer functionality, be sure to tell your friends to pick it up and join in on the brother-smashing.
1928 Views // September 5, 2014