Turtle Rock Studios had already revealed plans for Evolve's gigantic amount of DLC, or Downloadable content, prior to the game's launch, but even that doesn't include the more than $60 worth of extras.
The game's Xbox One DLC hub includes 44 items, both bundled and individual, for purchase. The items are: 24 skins (nine are almost $3.00usd). If you were to buy each item individually, then it would cost you about $75.00usd. However, if you were to buy all of the bundles (there are 8 bundles) 8 for $4.99usd and 3 for $6.99usd - you would be paying about $61usd.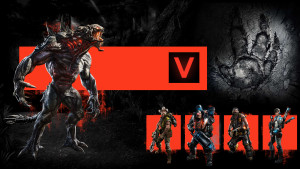 None of that is included in the game's season pass. With the $24.99 Evolve Hunting season pass, players are given access to 3 skins exclusive to the pack and 4 new hunters. Hunters will be available individually on the release for $7.49usd a piece.
The regular edition of Evolve, which includes only the game, is at $59.99. But those who purchase the Digital Deluxe edition for $79.99 also get access to the season pass.